Getting to Louvain-La-Neuve was absolutely terrible. It was hard, rough, tiring, and depressing. If I had done it a lone I would have broken down and cried. However, with everything that seemed to go wrong at every turn, I was still having a wonderful time. Take that, culture shock!
So, the morning we are to get on the busses to go to Louvain-La-Neuve is a tough one. I drag myself out of bed and trudge downstairs to the free breakfast to see only two of my companions are already awake. More join us and we wearily try to be witty and funny but eating is just too much effort at this early hour.
Eventually we are all together in the lobby at eight am, and there is no bus here. And all of a sudden, Mike realizes his bag is missing. In our giant pile of bags no where is his laptop case to be found. His laptop case that contains, oh just his laptop and every document we need. It's bad enough that he has to wait for the police, but they don't even get there until after the bus arrives, thirty minutes late. Oh did I say bus? I meant two tiny vans that we could barely cram our 12 passengers with luggage for six months into.
We get on the road. It's rainy; we're tired. And I decide to nap. Soon our twenty minute ride is much longer and I realize we are in Louvain-La-Neuve but DRIVING AROUND IN CIRCLES.
For those of you who don't know, Louvain-La-Neuve, in an attempt to be environmentally friendly, is perched on a concrete slab.
Yes, a slab. There is no pretty way to say it. Everyone we met said "slab" so proudly. Cars do not go in the city except for collections and emergencies. They all drive under the city which is basically just a high speed set of roads and parking garages. Guess who's vans don't fit into the parking garages...
You bet... Ours. So our bus driver pulls over. Seems like a good idea if he wants to call for assistance, right? Wrong! No, he just wants to pull over, right at a turn. We are underground. There are walls. No one can see us around this turn. At this point a bus for Louvain-La-Neuve drives by and stops to see what the problem is.
I should probably mention that our van driver was Flemish. I should also probably mention that Louvain-La-Neuve is French. And maybe also that the country is (basically) divided into two sections... The Flemish and The French who are constantly battling for power and rights and are the main reason there is no government right now.
Well, our driver yells at their driver and their driver takes off. We finally manage to find a "good spot" to pull over into and its like a truck loading area, underground, with pipes dripping. The professors who were intended to welcome us luckily found us there, and promptly sent us back to the vans, where we had just unloaded our luggage.
At this point our drivers, who are clearly tired and irritated they might miss their next appointment, drop us off where? On the side of the road again, by speeding cars, where we can play frogger and try to rush our luggage into the correct parking lot.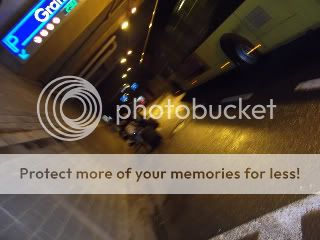 Luckily for us, here is where we had a tiny bit of peace. We take an elevator to the International Languages Vivant Building, or our home base, which we call ILV. Our luggage is locked into an empty classroom and we are given an introduction to Louvain-La-Neuve, all in English and with free pie.
Not much longer after that though it is time for us to get started on administrative tasks. In a herd we head down to the logement building which will give us our assignment and housing contract to sign. My assignment goes without a hitch. I am assigned to an apartment in Place des Sports, near a few other group members, and despite being tired, I know that soon I will be able to throw my stuff in my new room and crash on my bed.
Boy, was I wrong! On the last step of the journey, I get to my housing contract... and it won't print. Yep, not even a "your trip is ruined, your visa is all wrong!" Just a plain old simple printing error. That of course no one in the office knows how to fix. Why? Because it's lunch break. So, I am charged with returning in the afternoon.
We all go back to the ILV in order to get our luggage and go to our houses. Not me though, I get to stay and wait. Luckily for me, Mike, who has been in Brussels with the police shows up. He needs to get his contract, so I get a second chance to go back. We take him to all the offices and end up at the lodgement where my contract prints perfectly and I get to sign it.
I was so excited to get to my room at this point but there is only one coordinator with us, so he took Mike to his apartment, while I was meant to wait, alone, in the ILV for Mariken to arrive, who was taking people to Place des Sports. Of course ten minutes turned into an eternity and the next thing I know I'm waking up to a hot flat face that fell on a wooden desk. I could not stay awake!
At this point people are coming back for their second luggage, already moving into their places, and I am still waiting to go to mine. Luckily for everyone who lives near me, I got to pack all of their extra luggage and my only one bag into Mariken's car, and get a lift (underneath a large suitcase) to Place des Sports. She drops me off at the buildings office to check in. At this point I can barely speak English, let alone read a housing contract in French.
After lots of hand gestures I finally get my keys and my "linens" and am allowed to go to my room...
Which is absolutely tiny!
I mean much smaller than Clemson rooms. But at this point, I don't care... I just want to fall on my bed. And then I look at the time. 4:35. I promised to meet two friends at the bottom of the mountain five minutes ago. So guess who has to leave her newfound bed? Moi. And with no Belgian number, I can't call them, so down the mountain I go.
Turns out though, I wasn't going DOWN like I was meant to. I was going up. I got. Completely. Lost.
Now might be a good time to mention that LLN is not actually a city but a rain cloud.
That's right. At every moment it is always misting, slightly raining, or really raining. At this point, it was "actually" raining. I ran into an end of the road sign, turned around and walked until I saw large buildings. When I finally made it to the ILV and climbed all four floors, I just crashed on the floor.
What a long day!